Legislative Session Weekly Update 5 - Feb 21, 23
Date posted
February 21, 2023
LEGISLATIVE SESSION 2023
WEEKLY UPDATES
HB 314 Domestic Violence Amendments Marsha Judkins, (R), Provo
STATUS: Passed House Unanimously, Assigned to Senate Committee
We have been working with Representative Judkins on a bill that will expand on the work we as an industry started which gives victims of domestic violence a way out of a lease with a small cancelation fee.
We feel this bill is a needed protection for renters who are victims of DV but doesn't hurt landlords. In fact, the language in here will actually be an improvement and add protections for landlords, particularly the requirement to have 15 days to turn the rental unit with rent being paid. Because this bill is consensus and supported by all sides, it sailed through a house committee unanimously and Friday passed the house unanimously.
Below is a graphic that explains the changes and why all sides support them.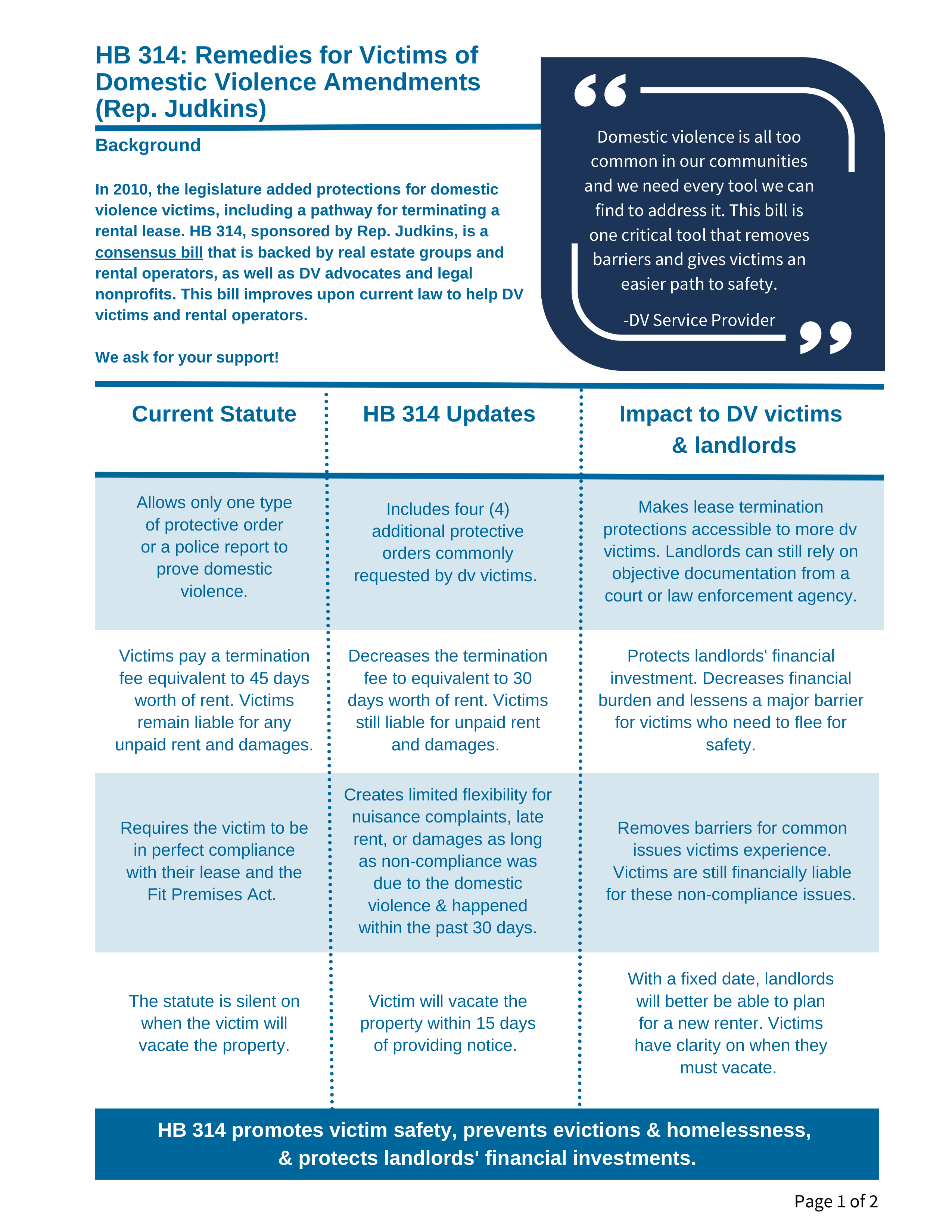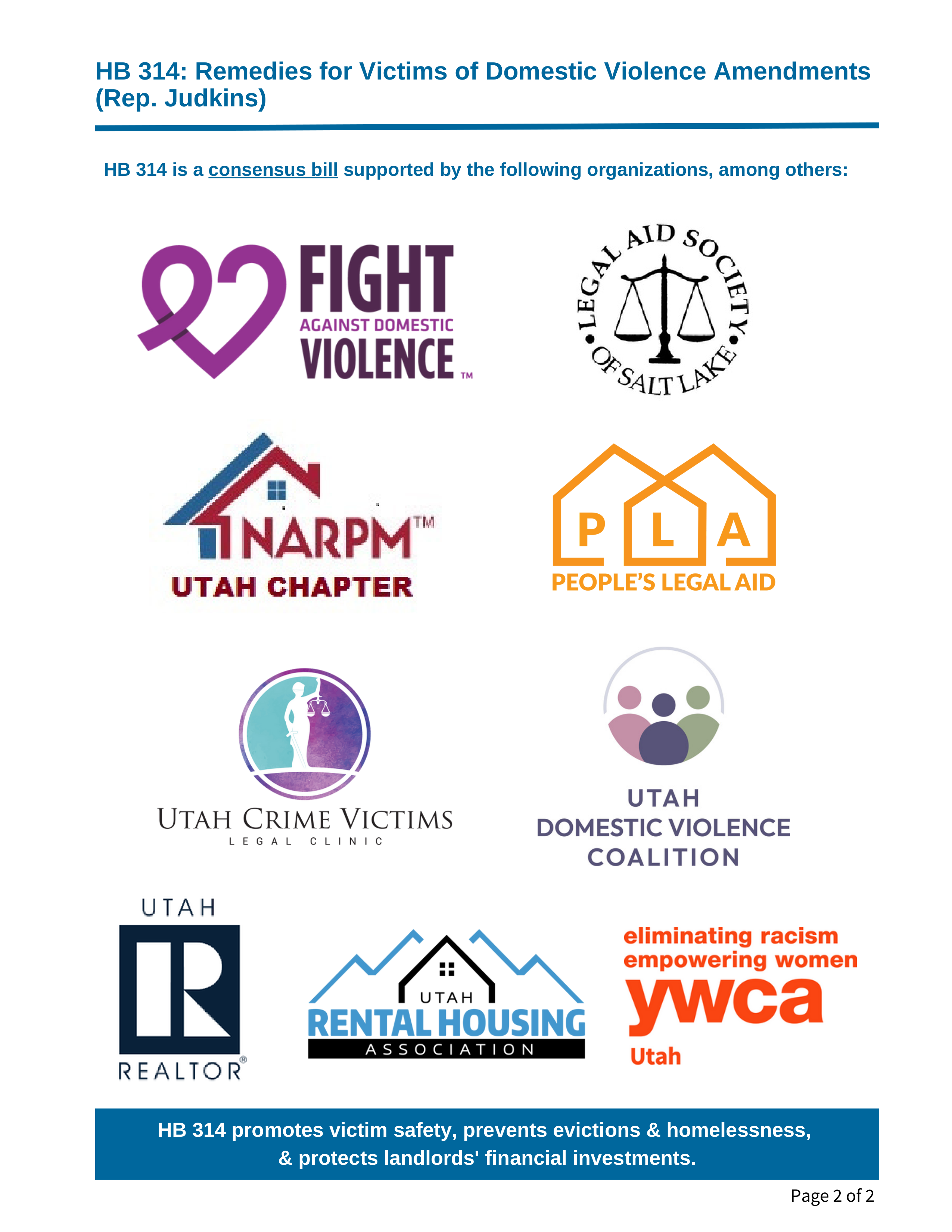 Unnumbered Rental Property Amendments, Rep. Ken Ivory (R), South Jordan
STATUS: Currently Being Drafted
We now know the substance, if not the specifics, of a bill file opened by Rep, Ken Ivory, on Rental Property Amendments. It will be a Fit Premises bill that will attempt to protect renter's who sign leases on rental property "sight unseen". In some cases, they show up and the place isn't what they thought it would be.
The first proposed solution was to allow failure to do three things that are listed in the Fit Premises Act best practices session, to trigger potential causes of action and excuse payment of rent. Currently the law does not allow any failure to perform one of the "best practices without penalties" that were negotiated and put into statute to trigger a cause of action or excuse not payment.
The sponsor reached out with us to obtain our thoughts on this, and we can't find a way that would work. However, a solution that would be narrow enough to work is to give a "sight unseen" renter an out. But that has a lot of issues. The following correspondence explains more. Since there is no language, and we are just having discussions, the below solution in just an example for discussion and not an actual proposal:
Potential Solution: Add the following language to the Fit Premises Act
57-22-4.1 Failure to deliver possession of residential rental unit -- Renter's option to terminate rental agreement – Abatement of rent. Renter's option to terminate a sight unseen rental agreement
(1) If an owner fails to deliver possession of a residential rental unit on the date provided in the rental agreement:
(a) the renter may, by written notice to the owner, terminate the rental agreement; or
(b) if the renter chooses not to terminate the rental agreement, rent abates until the owner delivers possession as provided in the rental agreement.
(2) If a renter terminates a rental agreement under Subsection (1)(a), the owner shall, as promptly as reasonable, return to the renter all prepaid rent and any security deposit.
(3) If a renter signs a contract sight unseen, they will have 24 hours to accept or reject the lease from the day the unit is ready for move in and delivered to the renter. Failure to notify the owner of cancelation within 24 hours or moving in the renters' possessions will constitute proof of acceptance of the contract.
If protecting renters from getting locked into a contract for something that isn't what they thought it was is our goal, this is the narrowest possible solution that meets that goal!
Potential losers if this provision is put into law:
Out of state renters – It is likely that rental operators would pivot and not sign contracts unless someone had physically seen the unit. This policy used to be very common before pictures and virtual showings became commonplace. Nowadays convenience of the shopper is a top priority, so operators do whatever they can to make viewing a rental and signing a contract easy. However, if there was a right to cancel a sight unseen lease, but an owner can sign a lease with someone who has seen it and have no risk of loss, we can see owners going back to that policy. It would be too risky to sign sight unseen contracts, so the market might stop that. Out of state owners might have to book a trip to Utah to shop for rental housing (when right now they do it online) which may be costly and expensive. Or they could roll the dice and show up hoping they could quickly find a place while moving truck rental accrued and they had to stay in a hotel, or worse, their car, because of the tightness of the market!
Student housing – these operators almost always sign leases sight unseen. This would hurt them significantly, and likely prompt changes to their policies, like not signing any leases, just doing holding deposits that are only half refundable if a renter chose not to sign a lease when they showed up. Their likely policy changes to protect themselves might hurt renters.
Current renters – It is uncommon (but occasionally happens) for rental operators to take prospects through an occupied unit. Most show model apartments, pictures, or virtual tours. If sight unseen leases were voidable, I could see rental operators requiring that renters in their final month allowed scores of prospects to traipse through their domicile while packing and trying to prepare to move. It would be a pain for current tenants, less convenient for prospects who enjoy the convenience of online/remote viewing, and more time and work for rental operators.
In good faith, this is the only solution we see as viable, but the costs to operators and rentals alike would be profound. We are not sure either side would think what would be gained would be worth the cost.
If this solution isn't something that you are interested in (and you honestly probably shouldn't be – we don't think it could pass) we could try to brainstorm and work together over the coming year to find a consensus solution for next year.
There are no other major changes since last week. As always reach out to us if you have any questions or suggestions!
Download Legislative Tracking Report Feb 21, 2023 - Excel